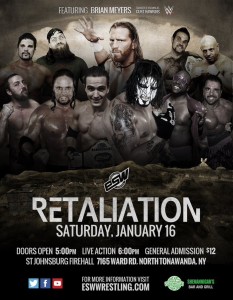 Saturday, January 16, 2015
St. Johnsburg Fire Hall
North Tonawanda, NY
1. Kevin Bennett beat Chris Cooper.
2. Inferno Johnny Adams & Rochester Wrecking Crew beat Mikey Everynite, Steve Gage & Terrell Kenneth.
3. ESW Interstate Title: RJ City beat Ryot to retain.
4. Yuri Koloff beat Marek.
5. Cody Deaner beat Vince Valor.
6. ESW Tag Team Title: Frankie Feathers & Jonny Puma beat Bobby Sapphire & Roscoe Black to retain. After, Rochester Wrecking Crew attacked Feathers and Puma.
7. European Rules: Dick Justice and Brandon Thurston battled to a draw.
8. Curt Hawkins beat Bill Collier.
9. Cheech and Colin Delaney beat Randy Philbrick and Andrew Cravatta.
10. ESW Heavyweight Title: Will Calrissian beat Ron Falco to retain.