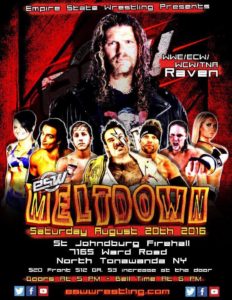 Saturday, August 20, 2016
St. Johnsburg Fire Hall
7165 Ward Road, North Tonawanda, NY
1. Inferno Johnny Adams beat Davey Vega.
2. Frankie Feathers beat Mikey Everynite.
3. Oliver Street Connection & Anthony Gaines beat the Hate Brigade by count out.
4. Cloudy beat Vince Valor.
5. Rochester Wrecking Crew beat SupleX Files.
6. RJ City beat Gregory Iron.
7. Cheech beat Omega Aaron Draven and Rickey Shane Page in a three-way.
8. Big Cat Lemmer & Jordan Falco beat Ryan Cassidy & Jerk Cockins.
9. ESW Heavyweight Title: Bill Collier beat Will Calrissian to become new champion.
10. Maria Manic beat Heidi Lovelace.
11. Raven's Rules: Chris Cooper beat Kevin Bennett.