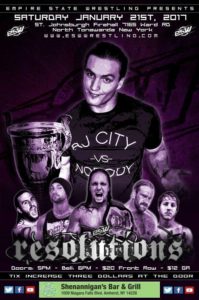 Saturday, January 21, 2017
St. Johnsburg Fire Hall – North Tonawanda, NY
Thank you for making this our highest-attended show ever at St. Johnsburg Fire Hall!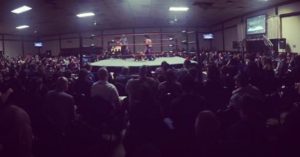 Comeback on March 25 when we'll have special guests Ethan Page, Lio Rush and Space Monkey! Results from tonight:
1. Brandon Thurston beat Rickey Shane Page.
2. ESW Interstate Title: Coconut Jones beat Cloudy and Anthony Gaines in a triple threat match to retain.
3. Big Cat Lemmer beat Ron Falco.
4. Colin Delaney, Cheech & Frankie Feathers beat Mikey Everynite, Steve Gage & Terrell Kenneth.
-As a result, Dick Justice has been reinstated in ESW.
5. RJ City beat Vince Valor.
6. Braxton Sutter (Pepper Parks) beat Silas Young.
7. Gregory Iron beat Inferno Johnny Adams.
8. Kevin Bennett beat JT Dunn.
9. ESW Tag Team Title: Oliver Street Express beat Rochester Wrecking Crew by DQ., therefore RWC retain.
10. Alex Daniels beat James Sayga.
11. ESW Heavyweight Title: Bill Collier beat Trent Barreta.