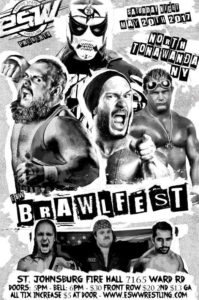 Saturday, May 20th, 2017
St. Johnsburg Fire Hall
7165 Ward Road – North Tonawanda, NY
Doors Open: 5:00pm | Bell Time: 6:00pm
Thanks for another great show! See you on Saturday, June 24 at St. Johnsburg Fire Hall! Quick results from BrawlFest 2017:
1. ESW Heavyweight Title: RJ City beat Bill Collier to become new champion.
2. James Sayga, Nick Marek and Wes Adams beat Mikey Everynite, Steve Gage and Terrell Kenneth.
3. Kevin Blackwood beat Dick Justice, Cloudy and Vince Valor in a four-way match.
4. Anthony Gaines beat Ryan Cassidy.
5. ESW Interstate Title: Coconut Jones beat Alex Daniels to retain.
6. Four Corner of Carnage Match: Ron Falco beat Big Cat Lemmer.
7. ESW Tag Team Title: Oliver Street Express beat Rochester Wrecking Crew, Hate Brigade and Cheech & Colin Delaney in a four-way match to retain.
8. Asylum beat Nick Ando.
9. Kevin Bennett beat Brandon Thurston.
10. Brian Christopher & Frankie Feathers beat Jerk Cockins & Caesar (w/ Superbeast)
11. Braxton Sutter beat Penta El Zero M and Michael Elgin in a triple threat match.