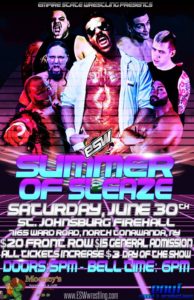 Saturday, June 30, 2018
St. Johnsburg Fire Hall
7165 Ward Road – North Tonawanda, NY
Thank you for your continued support of ESW! We'll see you again at St. Johnsburg Fire Hall on Saturday, August 25.
Quick results from last night:
1. Hand Crafted (w/Roscoe Black) defeated Rawr XD and the team of "The Dyad" Sebastian Braun & Wes Barkley in a triple threat tag team match
2. Frankie Feathers defeated Kevin Blackwood (w/Lady LaLa)
3. ESW Tag Team Champions Game Over defeated The Oliver Street Express
4. ESW Interstate Champion Anthony Gaines defeated Ace Romero
5. "Big Time" Bill Collier defeated "Captain" Nick Ando. Post-match, a hooded masked man came out to confront Collier. But a returning Terrell Kenneth came out and attacked Collier.
6. Brandon Thurston & KC Spinelli defeated Big Jack & Kate Carney
7 . "The Remix" Kevin Bennett defeated "Red Death" Daniel Garcia
8. Mr. Brickster (making his ESW debut) defeated Mikey Everynite
9. Puf defeated Joey Ryan. Post-match, ESW Champion Pepper Parks attacked Ryan and Puf with a steel chair. Kevin Bennett came out and attacked Pepper with a chair of his own. Bennett then told Parks he was invoking his rematch clause on August 25th and he was getting his title back.