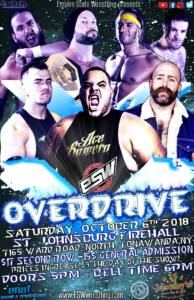 ESW OVERDRIVE
Saturday, October 6th, 2018
St. Johnsburg Fire Hall
North Tonawanda, NY
1. Sebastian Braun beat Dakoda Orion.
2. Jerk Cockins (w/ Caesar & Lady Lala) beat Vinnie Moon (w/ Sebastian Suave).
3. DiPaolo Cup Qualifier: Brandon Thurston beat Ace Romero.
4. James Sayga, Vince Valor & Frankie Feathers beat Mike Skyros, Cloudy & Captain Nick Ando.
5. Cheech beat Sebastian Suave (w/ Vinnie Moon).
6. DiPaolo Cup Qualifier: Sean Carr beat JT Dunn.
7. Bill Collier beat Gregory Iron (w/ Roscoe Black).
8. DiPaolo Cup Qualifier: Kevin Blackwood beat Trent Barreta.
9. DiPaolo Cup Qualifier: Daniel Garcia beat Tarik, Randy Philbrick and Andrew Cravatta in a fatal four-way.
10. Puf & Kevin Bennett beat the Butcher and the Blade (Andy Williams & Pepper Parks).