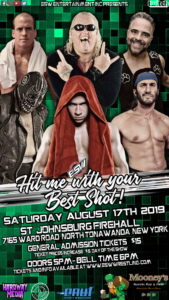 Saturday, August 17, 2019
St. Johnsburg Fire Hall
7165 Ward Road, North Tonawanda, NY
1. ESW Interstate Title: Frankie Feathers beat Cheech to retain.
2. Vince Valor & James Sayga beat Slade & Nick Sullivan.
3. Evil Uno beat Colin Delaney.
4. Caesar, Chris Cooper & Will Calrissian beat Vinnie Moon, Dakoda Orion & Ryze.
5. Brandon Thurston beat Anthony Musso.
6. Bill Collier beat Jerk Cockins.
7. Kevin Blackwood beat Bill Collier.
8. Atticus Cogar beat Josh Briggs and Kevin Bennett in a triple threat match.
9. Jonny Puma beat Anthony Gaines by count-out.
10. Trent Beretta beat Pepper Parks.
11. Gregory Iron & Puf beat RJ City & Gangrel.
12. ESW Heavyweight Title: Daniel Garcia beat Jay Freddie to retain.
---
---
---