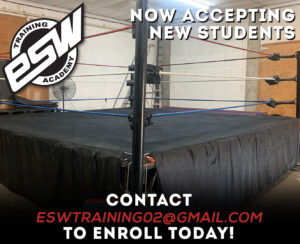 We here at Empire State Wrestling are proud to announce the official opening of The ESW Training Academy!
For years we've received countless messages from prospective wrestlers asking for a dedicated ESW training facility, and as we close in on our 20 year anniversary we can finally reveal that an official ESW wrestling school is now a reality.
Train to become a professional wrestler from the top minds within the top promotion in New York State. In addition to active wrestlers we also offer training on many non-wrestling roles, both in-front of the crowd and behind the scenes.
We're also open for existing wrestlers looking for additional ring time.
Contact us through Facebook Messenger or at ESWtraining02@gmail.com if you're interested in becoming a professional wrestler.