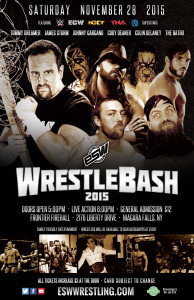 Saturday, November 28th, 2015
Frontier Fire Hall – Niagara Falls, NY
1. Colin Delaney & Cheech beat The Batiri.
2. Vince Valor beat Sergei Koloff & Yuri Koloff.
3. Frankie Feathers & Jonny Puma won a tag team battle royal to become new ESW Tag Team Champions.
4. ESW Interstate Title: RJ City beat Cody Deaner to retain.
5. Johnny Gargano beat Yusuke Kodama.
6. Cloudy beat Marek.
7. James Storm beat Cloudy.
8. Ilio DiPaolo Cup: Bill Collier beat Pepper Parks, Chris Cooper, Kevin Bennett, Dick Justice and Brandon Thurston to win a shot at the ESW title any time he chooses.
9. ESW Heavyweight Title: Will Calrissian beat Inferno Johnny Adams to retain.
10. Extreme Rules: Tommy Dreamer beat Asylum.