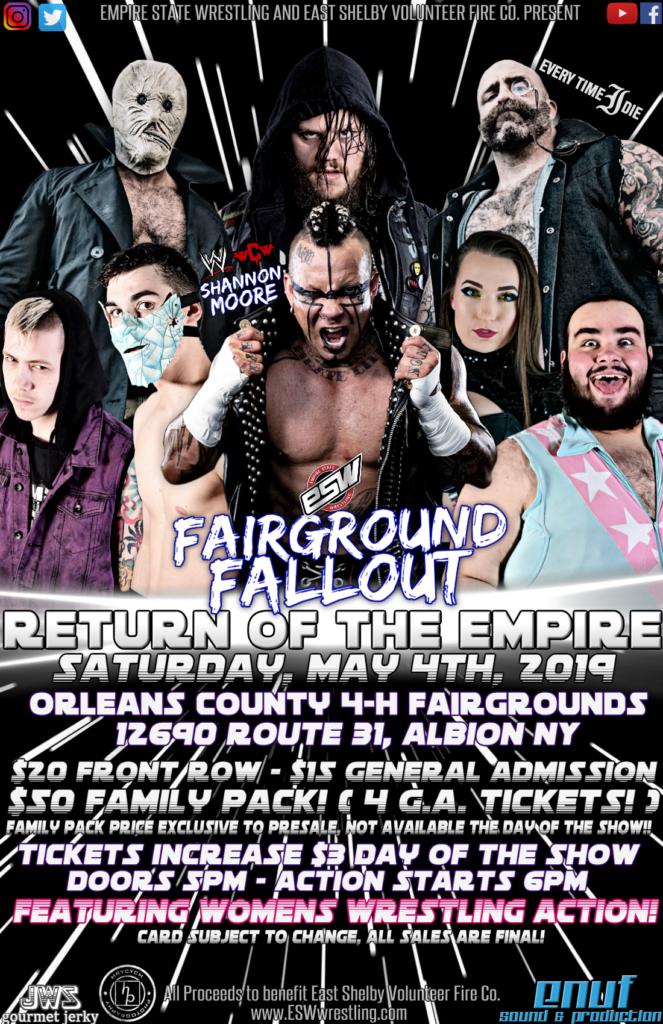 Saturday, May 4, 2019
Orleans County 4-H Fairgrounds
12690 Route 31
Albion, NY
Doors: 5pm | Bell: 6pm
1. ESW Tag Team Title: Vince Valor & James Sayga beat the Universal Era (Dakoda Orion and Vinnie Moon, with Ryze) to retain.
2. ESW Interstate Title: Frankie Feathers beat Jerk Cockins to retain.
3. Kate Carney beat Jody Threat.
4. Kevin Bennett beat Joe Gacy.
5. Gavin Glass & Rob Sweet beat Handcrafted (Gregory Iron & RJ City). After the match, Gavin brutally attacked Sweet with a steel chair, claiming he didn't need any help.
6 . Pepper Parks beat Space Monkey.
7. Shannon Moore & Anthony Gaines beat Nick Ando & Cloudy.
8. ESW Heavyweight Title: Brandon Thurston beat Sean Carr to retain.