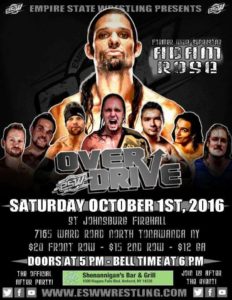 Saturday, October 1, 2016
St. Johnsburg Fire Hall
7165 Ward Road, North Tonawanda, NY
1. Ron Falco beat Kevin Blackwood.
2. ESW Tag Team Title: Rochester Wrecking Crew beat Gregory Iron & Inferno Johnny Adams to retain.
3. Cheech beat James Sayga.
4. Frankie Feathers beat Terrell Kenneth.
5. Asylum beat Jordan Falco.
6. Kevin Bennett beat Alex Daniels.
7. Anthony Gaines beat Ethan Page.
8. Oliver Street Express beat Hate Brigade.
9. Matt Milan and Vince Valor battled to a double count-out.
10. RJ City beat Adam Rose.
11. ESW Heavyweight Title: Bill Collier beat Will Calrissian to retain. As a result of the match stipulation, Calrissian retired.